Things to Do in Dover
As one of the world's busiest ports, with ferries running across the English Channel to Europe, the town of Dover in southeastern England is the first stop for many cruise visitors. Along with a rich history as one of England's most important maritime towns, Dover's main attraction is the iconic White Cliffs of Dover.
The Basics
Most visitors make a beeline for the famous White Cliffs, and the 300-foot-high (91-meter-high) sea cliffs are a dramatic sight—a wall of gleaming white chalk towering over the ocean. As well as seeing the cliffs, a full-day tour from London typically visits nearby attractions such as Leeds Castle, the UNESCO-listed Canterbury Cathedral, or the seaside resort of Folkestone, often stopping to explore riverside Greenwich on the way back to London.
Cruise visitors can also maximize their time by opting for a post-cruise shore excursion, taking in the sights on the journey from the port to their central London hotel.
Things to Know Before You Go
Dover's small size makes it easy to get around on foot.

Wear comfortable shoes and bring warm clothing if you plan on visiting the White Cliffs—the weather can be cool and windy even in the summer.

Attractions including Dover Castle, the Dover Museum, and the White Cliffs vista point are wheelchair accessible.

How to Get There
Dover is located on England's southeastern coast, less than a 2-hour drive from London. High-speed trains run from St. Pancras International Station in London to Dover Priory train station, taking just over an hour, while slower trains also connect with London's Charing Cross, London Bridge, and Victoria stations. In Dover, it's possible to reach sights such as Dover Castle and the White Cliffs on foot (a steep 20-minute walk), and taxis are available outside the train station.
When to Get There
Dover tours run year-round, but the busiest period is during the summer months of July and August, when it's best to make an early start if you want to see the White Cliffs before the crowds arrive.
Dover's Military History
The landmark cliffs aren't Dover's only point of interest. The town's strategic position at the Gateway to Europe has made it an important center for the British navy, and the town nurtures a long military history. Along with the medieval stronghold of Dover Castle, other sights of interest include a series of underground WWII tunnels, the Battle of Britain Memorial, the sprawling ruins of the port's 18th- and 19th-century fortification walls, and the Dover Museum, home to one of Britain's last remaining Bronze Age boats.
Read More
Show Less
---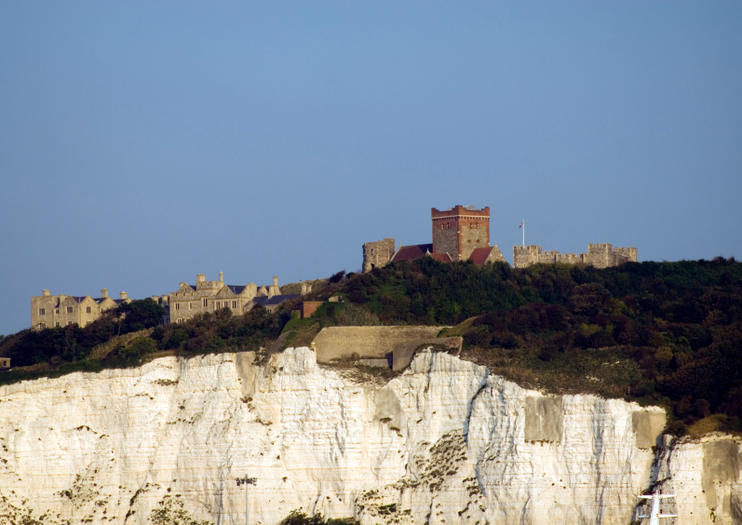 Dover is famous for its white cliffs and when approaching England by ship they are a lovely, iconic greeting to the United Kingdom. While a busy ferry port connecting England with France, Dover is a relatively quiet cruise ship port, used for embarkation and disembarkation.
Once a chic seaside resort, Dover has never really recovered from being bombed during World War II and these days most people choose to stay further along the lovely south-east coast in the pretty Georgian town of Brighton or in medieval Rye or in Canterbury with its famous cathedral, or to head up to London which is a couple of hours travel north.
Within Dover the main attraction is the castle built by Henry II in the 12th century, one of the oldest in England. In 1539, Henry VIII built nearby moated Walmer Castle, also worth a visit.
Read More
Show Less
---